9.05.2008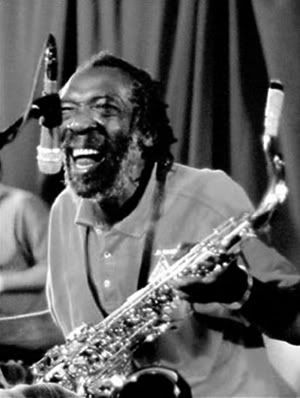 first posted by the daft yin 13 Jan 2007 @ (no way) .blogspot.com
This is the CD version of the original vinyl record recorded in 1978. Front insert is slightly
wrinkled. Disc is perfect. 100% guaranteed. DRA Records release. - USD 90.18
Availability: ONE IN STOCK - www.gemm.com
Born 26 Jun 1944, Birmingham, Alabama
BIO:
Saxophonist/flutist/singer Arthur Doyle is hardly alone in his position as a marginal jazz figure. In an art form known for its many trials and tribulations (both artistic and financial), Doyle hasn't made his situation any easier by attempting to carve a singular path along the music's outskirts. The fact that he has done so, however, is what makes his music so unique. Performing in a style he calls "free jazz soul," Doyle combines the liberated freedom flights of the avant-garde with the gritty, gut-wrenching emotion of gospel and R&B.
The second of five children, Arthur Doyle was born in Birmingham, Alabama, on 26 June 1944. He attended college at Tennessee State University where he quickly built a circle of contacts in the Nashville music scene, playing with Louis Smith (Horace Silver) and Walter Miller (Sun Ra). Following brief stints in Detroit, playing in a big band led by Charles Moore, and back home in Alabama with R&B outfit Johnny Jones & the King Casuals, Doyle left for New York at the age
of 23.
Still essentially a bop player, Doyle quickly became acclimated to the more radical environment surrounding the city's bustling loft scene. Shortly after his arrival, the saxophonist hooked up with drummer Milford Graves and began sitting in on dates with Pharaoh Sanders and Sun Ra's Arkestra. Declining a possible job with the latter outfit, Doyle instead joined a small combo led by Noah Howard, performing on the sessions that produced The Black Ark (1969).
Concerted efforts by jazz's mainstream to stifle the practitioners of the "new thing" took their toll, however, and Doyle vanished from the scene from 1972-1974. He would not appear on an album again until 1976, ending a seven-year period of recorded silence with his blazing tenor work on Graves' Babi Music. The following year, he led a quintet of his own in a performance at a New York loft dubbed the Brook. The results were documented on his landmark Alabama Feeling and released in a limited pressing of 1000 copies.
Amongst the crowd that night was an admiring guitarist named Rudolph Grey. The pair met that evening and soon devised plans for an outfit of their own. Debuting at Max's Kansas City as the Blue Humans, they proceeded to play a series of New York dates with drummer Beaver Harris. Doyle abandoned the project shortly after, the increasingly bleak situation for free jazz players in the states convincing him to move to Paris in 1982. Not long after his arrival, however, the saxophonist was arrested on false charges, spending the next five years in prison. Horn-less, Doyle wrote prolifically nonetheless, producing the first compositions for his songbook: a massive, 300-piece aural memoir.
[Another account: "Arthur was playing and supporting himself in Paris when personal problems landed him in prison. There was talk of a government conspiracy and Arthur, even after serving time, maintains his innocence. While in prison Doyle wrote about 150 songs."]
Once released, Doyle returned to New York where he recorded the new music, capturing his hollers, shouts, and singing (along with his flute and tenor work) in gritty fidelity on a boombox. These recordings subsequently appeared on the albums Plays and Sings from the Songbook (1992), Songwriter (1994), and Do the Breakdown (1997).
The 1990s saw Doyle performing with a number of different musicians from the jazz and improv schools including bassist Wilber Morris, drummers Rashid Bakr and Sunny Murray, and guitarists Keiji Haino, Thurston Moore, and old spar Rudolph Grey. The first studio recordings since his 1969 date with Howard emerged as well: Dawn of a New Vibration (with Murray) and Prayer for Peace (with Jim Linton and Scott Rodziczak). - Nathan Bush, AMG
REVIEW:
In late 1977, Arthur Doyle brought his quintet to New York to play at the Brook, a loft space on West 17th Street managed by Charles Tyler, with whom Doyle formed the label Dra that same year. The saxophonist/flutist/vocalist was joined by old friends from his hometown of Birmingham, Alabama, Charles Stephens on trombone, and Rashied Sinan on drums (whose only other memorable appearance was on Frank Lowe's 1973 ESP album Black Beings). Sinan turned up with a student of his, Bruce Moore, "to give it more rhythmic feel," and Richard Williams was brought in on Fender Bass to take on both drummers. From the opening splendidly titled "November 8th or 9th -- I Can't Remember When," Alabama Feeling pounds the listener into the ground with thrilling energy, playing easily on a par with classic albums on labels such as ESP and BYG Actuel. Doyle released this recording of the concert, whose dreadful sound quality was perfectly in keeping with the prevailing no wave ethos of the period (Doyle was, incidentally, one of the first jazz musicians to play Max's Kansas City in 1978, with Rudolph Grey and Beaver Harris as the Blue Humans), on Dra in an edition of 1,000, and the first CD reissue 20 years later in 1998 (also limited to 1,000 copies) was transferred by Glenn Branca's house percussionist, Wharton Tiers, direct from vinyl, complete with surface noise and dodgy editing. Connoisseurs of Sun Ra (with whom Arthur Doyle also played but, alas, never recorded) have long been prepared to forego quality sound in the name of great music, and any listener prepared to do the same will not be disappointed. It's worth it for Doyle's snarling entry on "Ancestor" alone. - Dan Warburton, AMG
ORIGINAL POSTER'S COMMENTS:
This would be one of my top 10 free jazz albums of all time and would be among the first entries. Nobody played like Arthur. In the world of top fireblowers he stands apart. I wish I owned this vinyl. The CD is out of print.
Credits
Arthur Doyle - Sax (Tenor), Clarinet (Bass), Flute
Richard Williams - Bass (Fender)
Rashied Sinan - Drums
Bruce Moore - Drums
Charles Stephens - Trombone
All compositions by Arthur Doyle
Tracks
1. November 8th or 9th – I Can't Remember When
2. Something for Caserlo, Larry, & Irma
3. A Little Linda, Debra, Omita, Barry & Maria
4. Ancestor
5. Mother Image, Father Image
6. Development
a. BaBi Music for Milford & Huge
b. Alabama Soul for Arthur
c. Ramie & Master Charles of the Trombone
File Size: 51.5 MB
Sound Quality: CBR@320 KB/ps
http://www.mediafire.com/?9m4zlmmv24j
pw to unrar  =  freddy
Labels: FREE DOWNLOAD, Unknown


at 10:35 AM